$57 Healthy Meal Prep on a Budget at Sprouts! – I'm Alyssia and I am super excited to share this meal prep video with you. So many of you have asked for a sprouts video and this one is special because I'm sharing a healthy meal prep for the week for two people where I spent under 60 dollars, and bought my meat organic and most of my produce.
Sprouts partnered with me to make this video possible and I am not gonna lie, I'm stoked about that because it's an amazing grocery store that I love to shop at for healthy, natural and organic foods, and the prices are great, as you'll see throughout the video, with my 60 dollars, I bought all of the main ingredients but just so you're clear, that doesn't include any condiments or pantry items that I already had on hand. Let's start with breakfast, oh man, these flourless zucchini, carrot and oat breakfast muffins are were it's at.
$57 Healthy Meal Prep on a Budget at Sprouts!
It's a blender muffin recipe meaning it pretty much can't get any easier. Into a food processor or blender go some spotty bananas which are much sweeter, I had one on hand from last week, some applesauce, rolled oats, now if you don't know, sprouts has an amazing bulk section it's one of the things I love most. Buying in bulk means you can get what you need and only pay for that, so you're saving money, and not wasting food.
I got the rolled oats there for only 79 cents per pound for the amount I needed it was only 53 cents. I also add eggs. Honey, and sprouts has a great sustainably sources honey that I love, creamy peanut butter, which is generally more affordable, but you could also totally use almond or any nut butter you prefer. Vanilla extract, cinnamon, baking powder, baking soda, salt, and milk of choice.
I went with almond to keep them dairy free. Blend it up! Then I remove the blade, or you could transfer it to another bowl if needed, and just mix in some grated carrots, zucchini, and walnuts for texture, and of course a boost of nutrition too. I use an ice cream scoop to get the mixture into the sprayed muffin tin evenly. And into the oven it goes, at 375 degrees Fahrenheit, for about 18 to 20 minutes, until golden brown. Cool before enjoying.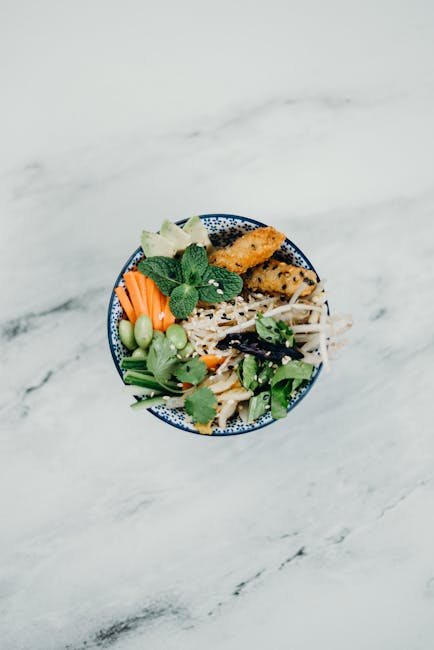 Oh man, these are wholesome and satisfying, they're like a breakfast bread in muffin form, with natural sweetness from the carrots and veggie goodness of course. And these will last five days in the fridge making them great for your weekly meal prep. For lunch, I'm doing sesame chicken two ways. One of the ways I keep meal prep less stressful is by keeping my proteins to a minimum because they're the most expensive and the most work.
I use sprouts organic air chilled chicken thighs, air chilled means there's no water added, which keeps the real natural flavor of the chicken and juices, I used thighs because I think the fat provides more flavor, plus it's more affordable per pound, but they have air chilled chicken available in breast and drumsticks too, it's always fresh, never frozen, and it's more flavorful and tender with a much crispier skin when cooked, which I'm gonna show you right now.
See Also: I Meal Prep For A Family of 5 With Less Than $100
For the sesame chicken, I first combine tapioca starch with water, this is going to help thicken my sauce and mixing it with water first helps keep it from being clumpy so it integrates more easily. You could also use aerobic powder or corn starch. I add oil to a scalott over medium high to high heat to get it going, and then add the chopped chicken and cook until browned and crisped around four to six minutes. I have got to say, the air chilling really does help, especially cooked over the stove, but it's also great roasted in the oven. Remove that chicken for now and get the sauce going. I add sesame oil to the pan, Sprouts has a great oil section too, along with some fresh garlic, ginger and a small pinch of red pepper flakes.
Cook for 20 to 30 seconds until fragrant, and then add a splash of chicken broth. Honey, soy sauce, and the tapioca starch water mixture. In just one to two minutes it'll thicken up and then you can return the chicken to the pan and combine. If it's too thick, add another splash or two or broth and cook over low heat until smooth to your liking. Finish it off with sesame seeds. Wow, sesame chicken can be heavy but this lightened up version seriously hits the mark. Savory with a hint of sweetness and so much flavor, now it's time to use it two different ways for my meal prepped lunches. The first is a basic asian inspired bowl where I roast up some broccoli tossed with sesame oil, coconut aminos or soy sauce if preferred, sesame seeds, salt and garlic powder. I did not get the broccoli organic but it is on the clean 15 list meaning it's one of the produce options that is less likely to contain pesticide residue.
I often do buy broccoli organic, but not always, and if I know I'm going to budget my money on something else organic that week, like my protein, then it works for me to not get it every time. Honestly, just do the best you can, it's not all or nothing. I also made some long grain brown rice. I spent less than a dollar buying bulk and getting what I needed for the week rather than a larger, pre packaged bag, and just cooked it up over the stove. Those, paired with my chicken, are a simple but oh so flavorful meal.
I love to heat the whole bowl up at lunch but it works cold if needed. My second lunch is a sesame chicken salad. The chicken is already done, woo hoo! So it's just assembling the salad. I've got baby kale, which will hold up a little better for meal prep than lettuce, and since it's baby, it's much more wild and easy to eat for someone who does not love kale like me. And I store that separately from the other components. I've also got some cherry tomatoes, try to find the smaller whole ones if you can, typically organic are smaller anyway, and they are on the dirty dozen list, so I try to buy them organic regardless.
But my point was, if you don't have to cut them, then they'll last longer for meal prep. I also have some chopped red onions and mandarins. Sprouts has mandarins in a can that are stored in pear juice without added sugar. They're affordable and they'll last a week. I just strain them of the juice and add them to the mix.
Plus, it's easier than peeling them. I also add some slithered almonds to the salad so they don't get soggy with the other mixture. You can get those in the bulk section to keep it affordable and only buy what you need to. Next, can't forget the chicken of course. It's great in a salad which wouldn't be complete without a dressing, I made an asian inspired vinaigrette. It's just rice vinegar, olive oil, creamy peanut butter, soy sauce, sesame oil, honey, minced garlic, I can store that in a separate little container.
I linked everything I used below the video if you are curious, and my salad is ready to store. That dressing is so tasty, and the salad has great textures. It's so nice to have a cold meal where I don't have to worry about heating anything up when out and about. I do wait to add avocado until the day of, but it is a must for this salad, a perfect pairing. Plus, avocados were two for a dollar at Sprouts, talk about a win.
Okay, on to dinner, I've got two easy dinners, the first is a vegetarian chipotle chili that I'm making in the slow cooker. I try to not eat animal protein a few times a week at dinner and this chili is a great way to do that without sacrificing flavor, nutrients, or feeling satisfied. To the slow cooker I add chopped onion, carrot, garlic, canned diced tomatoes, uncooked quinoa, dry black and pinto beans, which I got the quinoa and beans from the bulk section, meaning they kept my cost down, I got what I needed, and the quinoa was less than one dollar because I was able to just get the amount I needed and the beans were a dollar 29 per pound on sale. And bonus, the great thing about the slow cooker with beans is you don't need to soak them. Save yourself the trouble and just add them dry because they're going to cook low and slow just fine.
I also add green bell pepper, some adobo chili peppers, chili powder, cumin, and Sprouts also has a bulk spice section, where you can get those spices you need in your desired amounts, which is awesome because spices are pricey, so I'll do this especially if it's a spice I don't use often. And lastly I add salt n' pep and water. This recipe has to cook the beans and quinoa, so we need a good amount of water, or you can sub some of that water with broth.
And in classic slow cooker style, just let it go. Four to six hours on high, or eight to 10 hours on low until the beans are tender. Holy chipotle, it's so flavorful and I think that's from using the canned chipotle chilis instead of the ground spice, it's got a bit of heat but it's not overwhelming, this doesn't have any animal protein so it's technically vegan but remember, quinoa is a complete protein, and beans are filled with protein and fiber too, so this is still super nutritious and of course loaded with veggies.
I like to top it off with cilantro or green onion, a little yogurt or sour cream or even avocado. That meal is done, and ready to go for the week. The second dinner is a prep now, cook later kind of meal, but it could not be easier. I'm making sausage and veggie soil packets. I actually store this in the foil for the week and it goes directly into the oven making for, yeah the easiest dinner ever.
I start with sausage which I got from Sprouts, it's a sweet Italian chicken sausage that is organic and was on sale this week, nice! Sprouts is seriously always having some kind of great sale. I just chopped that up from my packets, to a bowl I add brussels sprouts and butternut squash. Both of these are organic and yes, I could have saved a buck by cutting the squash myself but no, that's not fun, you know what happens when I buy a whole butternut squash? It never gets used. So cubes is worth it for me. And I got a ton of garlic cloves because they're just so good. I simply smash them with a knife to get more flavor out of them.
I season it all with oil, salt, pepper, and toss to combine. Then, into the foil it goes. I divide the mixture into four and add a sprig of fresh thyme to each. Them, just close up the pocket, I like to double fold the top and leave some air so the heat can circulate.
You really don't wanna let that heat escape. This can store in the fridge for up to four to five days and then just roast it when you're ready. Into the oven it goes at 425 degrees Fahrenheit for 25 to 30 minutes, until tender and dinner is served. Before anyone hates on me for foil, well let's just be real, I'm sure it's too late and now the hate has already begun but anyway, you don't have to use it, you can totally just store this in a container and dump it on a sheet pan totally fine, I like the foil packet for the ease, convenience, especially for meal prep, and the flavor it empurples by trapping the heat in the pocket when cooking.
The last bit of my meal prep is just snacks. I got a bag of Fugi organic apples for less than three dollars, apples are another one of the dirty dozen so I opted for organic, as well as some of these adorable and tasty race cakes by Sprouts, I love spreading some almond or peanut butter on them for a snack. And for anyone interested, I have a link to the clean 15 and dirty dozen lists in the description,
if you want more info on those. And that's my meal prep for the week, shopping at Sprouts for under 60 dollars. Sprouts really does make healthy eating affordable and if you're trying to eat better, they are just such a great option because they have so many things I've never seen anywhere else. Thanks to Sprouts for making this video possible