Today I am going to share with you 1000 Calories Egg Diet Plan for Weight Loss This is a low calorie & low carb diet plan. Eggs in Hindi – "Ande". We all know the benefits of eggs.
Egg contains a lot of protein, and is eaten in almost all the world. Eggs are cheap as well as very nutritious food. Along with protein in eggs, there is also calcium and a lot of vitamins and nutrients are present. Eggs are a very good source of instant energy. Eggs are very good for the eyes, bones, hair, and skin.
Egg Diet Plan for Weight Loss
That's why it is said – "Sunday ho! Ya Monday! Roz Khao Ande" In Egg Diet Plan, early morning drink detox water, empty stomach. Choose any detox water from my detox water videos. In the morning breakfast have Eggs Oats Omelette In this recipe, I have used whole eggs, If you have a cholesterol problem then please remove egg yolk.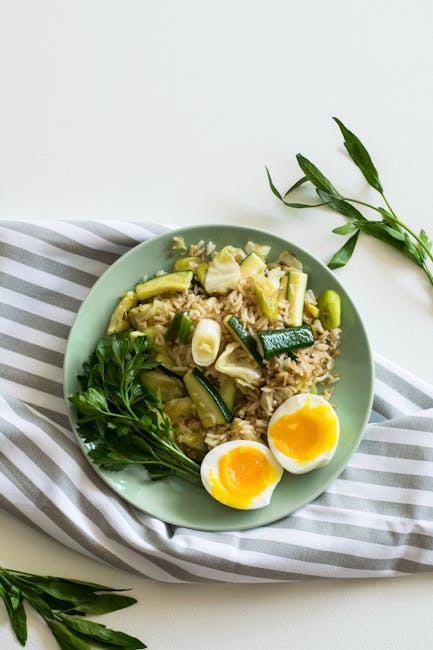 Always it is said that – one should eat only egg white and not egg yolk, but this myth. If you eat 2 – 3 eggs per day So there is no problem. Yes, if you have high cholesterol, then you should avoid egg yolk. Egg yolk is rich in vitamins and iron. and essentials nutrients that are needed to the body. Today we are going to make Egg Oats Omelette.
This Omelette will keep you full till noon. To make egg oats Omelette, we need oats – 10 gms you can use 10-20 gms I have taken spring onion – little, and capsicum – little If you wish to add onion, tomato then you can add that. I have taken 3 eggs, you have to take 2 – 3 eggs only. Eggs – take whole eggs, do not remove egg yolk. then add oats, about 10 – 20 gms then add chopped spring onion, then add chopped capsicum, add salt – as per your taste, red chili powder – as per your taste, black pepper powder, if you like, you can also add oregano in it.
See Also: HEALTHY MEAL PREP IDEAS FOR WEIGHT LOSS
Mix well all the ingredients. After your griddle is hot, or on non-stick you make Omelette. Add Oil – 1 tsp, greased the pan properly, spread well all the ingredients. Then you flip it in a little while. and cook well from both sides. So here is our Egg Oats Omelette for Weight Loss Ready! Mid-Morning You have to have anyone fruit, like Orange or Apple or Kiwi either you take one glass of buttermilk. In lunch, have Egg Sandwich here I have used brown bread for sandwich. and instead of whole egg, I have used egg white because we already used 3 eggs with yolk in morning breakfast, so for lunch I have used egg whites only. To cut down the calories and cholesterol, here we will use egg whites only.
Friends, here I want to tell you that I boiled egg's calories is 78 cal and 1 egg white calories is 17 cal only. Now we are going to make Egg Sandwich Here I have used Pudina Chutney (Mint Chutney) In this chutney – I have used Pudina (mint leaves), green chili, jeera (cumin), and salt. You can also use tomato sauce if you want Like I have said before – Here we will use egg white only.
I have removed the egg yolk, A little Chat Masala, Salt – as per your taste, then we will apply a layer of cucumber, I like that so here I am using chili flakes. I put a little oregano here then I'm putting a layer of tomato by doing this, you apply the layers according to you Here we have taken only two eggs.
Accordingly, you make an egg sandwich. then take another brown bread slice apply pudina chutney/mint sauce to it And here we have our delicious Egg Sandwich Ready! If you want, you can also grill it, or you can also roast it on the griddle/pan. Or you can eat like this, without grilled or roast. This Egg Sandwich Recipe is less than 250 calories.
Take two cracker biscuits with tea in the evening. And you have Masala Oats for dinner, Masala Oats Recipe's video link I have shared in the description below. Throughout the day if you ever feel hungry, then eat cucumber or apple. Consume at least 2 liters of detox water throughout the day. Do this Egg Diet seven days in a row.
Restrict the intake of tea or coffee to two cups throughout the day, with less or no sugar. Avoid sugar & junk food Along with this diet, perform physical activity for a minimum 45 minutes in a day, like Gym or Yoga or walking or swimming